Google Search Console is a free tool that allows you to see reports on how your site is being indexed and performing in Google Search properties.
Sometimes, people get confused between Google search Console and Google Analytics.
Let me clarify here.
Google search console is a kind of tool which shows you how Google search engine sees your site and measures how it's performing and finds technical issues.
While Google Analytics shows you how many users are coming to your site and how they're spending their time.
GSC welcomes all kinds of websites. If you have a WordPress blog, a website for business or an ecommerce website all can get verified on Google search console.
Like most bloggers in the blogosphere, my primary focus is to get my blog indexed ASAP so I will get organic traffic.
I don't care about less popular search engines like Yahoo, Bing, Yandex or any of the others. I'm just considered about top most used search engines which are Bing and Google.
Once my site is verified, I can see how my site is performing well on search results, what queries searchers use to visit my site and what kind of technical error's occur on my site which I can resolve ASAP.
From an SEO perspective, Google Search Console is an effective free tool that allows you to see immutable data on your site's indexing, search ranking, impressions, keywords (queries), page-level performance, schema enhancements, and more.
Simply, Google site verification is just a task for us to prove to Google that you are the owner of your website.
The first step is to verify your website property with Google Search Console so you can get accessing all of that valuable data later.
Thankfully, this process of getting verified is pretty simple, and there's a lot of ways to verify your website with Google Search Console.
I'll share with you 5 different authentic Google site verification methods in this blog post.
Let's get started!
Different Google Search Console Verification methods
Going back to 2018, Google launched an updated version of the Search Console dashboard and began building out more features for it and is still improving. They officially retired the old Google Search Console in 2019.
The updated version of Google Search Console allows website owners to verify their website property in 2 ways (screenshot below):
Root Domain Property Verification
URL Prefix Property Verification
Let's see first,
Root Domain Property Verification
This method of verification only requires DNS access and allows to see metrics on all domain properties, including subdomains, https vs. non-https, and more.
I personally do not prefer this way to verify your website property on Google Search Console is through your DNS.
Reasons, behind saying no is because it defined without the protocol (the http:// or https:// prefix) and without any path string (/some/path/) and it can include subdomains.
After verification, it's too complex to understand the data in the search console.
There is only one way for this method, you just require access to your domain provider, you'll need to add a TXT record to your domain's DNS configuration. And by the end of this upcoming step, you'll do this even if you have no idea what a DNS record is.
Verifying Domain Property in Google Search Console
In order to verify domain ownership, complete the following steps:
Step 1. Go to Google Search Console.
Step 2. Click 'Add Property'.
Step 3. Enter your domain name without www. in the domain property section.
Click 'Continue', you'll be redirected to the next step.
Step 4. Copy that domain verification text record you'll get from the following window.
Step 5. Log into your hosting. I'll be using cPanel as an example as I'm using Green Geeks hosting for my WordPress blog. You can check information depending upon your web hosting in the guide.
Step 6. Find Zone Editor under Domains section inside the cPanel:
Step 7. Choose the domain you need to verify in Google Search Console and click 'Manage'.
Step 8. Add a record and select TXT as a record type.
Step 9. Fill in the rest of the fields with the following information:
Valid zone name – your domain name
TTL – 3600
Text – your verification text copied in step 3.
Step 10. Once you've filled in all the fields, click 'Add record' to save it.
Step 11. Go back to Google Search Console and click 'Verify'.
And wait up to 3-5 minutes for the changes to take effect. Here's what that verification window looks like: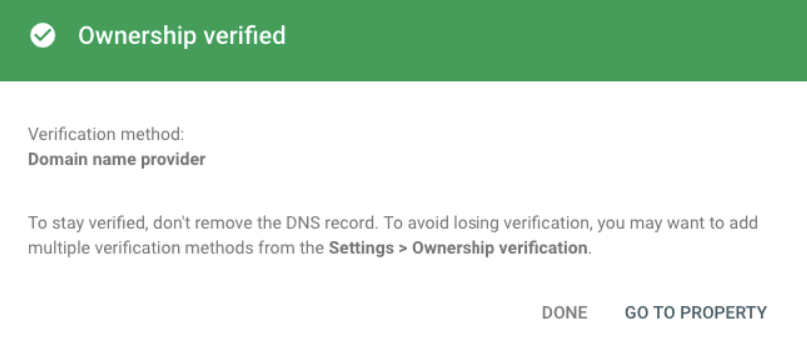 I have mentioned some of the most common DNS providers guide to adding a TXT record.
Depending upon your Domain Registrar, Google Search Console also offers verification via your login credentials so all you need to do to verify your site in Search Console is login to your provider.
Here're some of the following DNS providers can verify directly with Google Search Console:
Gandi.net
GoDaddy.com
Internet.bs
Name.com
Ionos.co.uk
Ionos.com
Ionos.es
Ionos.de
Ionos.fr
Hopefully, you know how to get verified by DNS Verification method which clearly mentioned above.
We bloggers don't use this verification method because it's too complex to understand and one of the biggest issues is it matches any property with any protocol with any domain.
Instead, if you need to limit your data by URL path segments (example.com/in/, example.com/en/, and so on) or by protocol (http/https), then create a URL-prefix property verification.
URL Prefix Property Verification Method
This method will only track a specific version of your domain and it allows the following various verification methods:
Adding an HTML file to your site.
By this method, you need to upload an HTML file to the root directory of your website. It's simple, but also a disadvantage is that you will need access to your server to upload the file, either via FTP/SFTP clients or something like cPanel File Manager.
WordPress bloggers like us don't use FTP frequently. We might use an FTP client one time to install WordPress.
But we use the WordPress admin dashboard for everything upload related task such as uploading a picture, or a theme, or a plugin.
Let's see how you follow the process of how you can add a HTML File in your website's root directory to get your Google search console verified.
Step 1. Click 'Add Property'.
Step 2.  Enter your domain name without www. in the domain property section.
After you add your site to Google Search Console, you should see an option to download an HTML verification file in the Recommended verification method tab:
Click on the button next to Download the file. Save this file somewhere you'll remember in your computer — you'll need it in a minute.
Once you download the HTML file, you'll find your site's root directory and upload the file there. You can verify that the file was uploaded properly by adding the HTML file name to the end of your domain.
(Ex: https://www.yourdomain.com/googleb1e0f5f297ef434e.html). It should pull up something like this.
Step 3. Once you've uploaded the file to your site, go back to Google Search Console and click on the VERIFY button to complete the process. Google Search Console will locate the file on your server and verify that you own the website.
Adding an HTML meta tag to your site's homepage.
It is a relatively simple method compared to all verification methods that we're seen, but requires the ability to edit the HTML source code of your site's homepage.
Verifying your site with an HTML meta tag is easier and almost 3rd party providers and website owners have sufficient access to do this.
With the HTML tag verification method, you need to add a simple meta tag to your site's <head> section.
Once you click that HTML tag verification method, Search Console will give you an HTML meta tag that will look something like this:
Use the COPY button to copy the meta tag in the box. And paste the code anywhere within the <head> tags and save it.
To finish the process, go back to the Google Search Console interface and click on the VERIFY button.
If you added the code exactly on head section to your website, Google Search Console would be able to identify it successfully in few minutes.
Site Verification by using Google Analytics.
If the page already has a Google Analytics tracking code for a Google Analytics account that you can access.
If the page does not have a tracking code, you must add one (which may require creating a Google Analytics account if you don't already have one). Read this Google Analytics setup tutorial for better help.
If you added Google Analytics to the website, then the tracking code should be on your homepage. That means that you can go ahead and use this method.
Before heading the verification method, make sure, you must use the same Google account for both Search Console and Google Analytics.
Login to Search Console using the same Google account that has edit access to your property in Google Analytics, and add or select the property to verify.
Now select Google Analytics on the verification details page (as shown in the image below) for your site and click Verify.
Google Search Console will look for all Google Analytics accounts associated with your logged in email address. As long as the email address you're using is verified with Google Analytics, Search Console will also give you ownership status of your Search Console property.
 Google Search Console Verification using Google Tag Manager.
Just like Google Analytics, if you're already using Google Tag Manager, you can verify your site within a single click. All you'll need to have the Google Tag Manager container snippet active on your site.
Again, there's no deep or involved process necessary. Here's all you need to do:
Select Google Tag Manager under Other verification methods.
Click on VERIFY as shown in the screenshot below.
Hopefully. this you got understood all google search console site verification methods which can be easily done.
It's your time to get started with your Google site verification. So, Google bot can crawl your entire site and share insights with you about your site's performances on the search results as well as errors and validations which you are going to resolve.
Just remember that Google will periodically check on your site's verification. No matter which method you choose, it's essential to leave that method in place — you cannot remove it after confirmation.
Do you have any other questions regarding the entire Google Search Console verification process? Just leave a comment, and I'll try to help!