For getting tons of organic traffic on your blog or website that you've been made on WordPress you need to start SEO campaign ASAP.
You do need to spend some time learning about search engine optimization (SEO) and how to use Google Search Console.
Search engine optimization is the process of improving the quality and quantity of website traffic to a website or a web page from search engines. For SEO, you have to do a lot of things to make your website SEO friendly that attracts tons of organic traffic from search engine organic results.
But have you ever wondered how you could track and measure and fix issues for your business websites or blog performance on search engine efficiently?
Google offers several free tools to collect and analyze data from your website. You probably have heard of Google Analytics and Google Search Console, Google Tag Manager etc. before.
These tools are available for free for everyone who is maintaining a website that provides you valuable insights about your website.
Let's talk about Google search console here. This guide has everything you need to know about the Google Search Console.
What is Google Search Console?
Google Search Console is a free web-based tool offered by Google that you use in your browser that helps you monitor, maintain and fix troubleshoot issues that could improve your site's search visibility in Google Search results. It can also be used to monitor the website's backlinks, mobile usability, and security issues.
Until 20 May 2015, Google search console was known as Google Webmaster Tools. Since GWT was being used by bloggers, SEOs, and digital marketers, it made more sense to change it to the Google search console.
You can able to do following actions through search console:
Submit your website to Google search.

Confirm that Google can find and crawl your website.

Fix indexing issues and request re-indexing of new or updated content.

Submit sitemap to Google.

View Google Search traffic data for your site such as how often your site appears in Google Search, which search queries showing your site, how often searchers click through for those search queries, and more.

Receive alerts by mail when Google encounters indexing, spam, or other issues on your website.

Removing a webpage from search results.

It shows you which website linked to your website.

Technical issues based on User experience, mobile usability, and other search features.
Getting started with Google Search Console:
In this part, I'll show you how to setup the Google Search Console for your blog or website.
How to setup Google Search Console?
First, you'll learn how to add your site to the GSC and get verified successfully.
Then, I'll help you make sure your site settings are good to go.
Step #1: How to Add Your Site to the GSC
Before sign in to GSC, here's what you need to use Search Console:

A latest version of any of the following browsers: Chrome, Firefox, Edge, Safari.

Both cookies and JavaScript must be enabled in your browser.

A valid Google Account, preferably the one you are already using for Google Analytics.
First, sign up to the Google Search Console Homepage and click on "Add Property" from the top left side on the screen.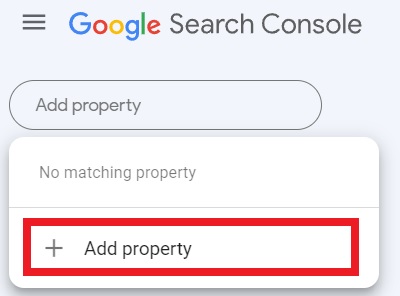 And you'll see this dialogue box (screenshot below):
Then, copy and paste your homepage URL into the "URL prefix" field and click on continue to proceed.
I chose the "URL prefix" option, as it gives you more options for verification.
You must verify ownership of your property before you can see any data for it or access it in Search Console.
Let's get verified our property.
There are 7 ways to verify your site. The Domain option only works with DNS verification, while the URL prefix supports different methods.
Here are the 4 easiest ways to get your site verified:
HTML File:

Upload a unique HTML file to your site.

CNAME

or

TXT Record

: Here's where you add a special CNAME or TXT record to your domain settings.

HTML Code Snippet

(Super easy method): Just upload a small snippet of code (an HTML tag) to the <head> section of your homepage's code.

Use your existing Google Analytics account.

Using Google Tag Manager.
If your website is built on WordPress then you can use Google's Site Kit WordPress plugin to connect Google Analytics and Search Console while giving you statistics in your site dashboard.
Once you have taken this step and got verified successfully. Then you'll be heading to your search console dashboard.
Understand Search Console Dashboard in Various Sections:
Let's understand, newly updated Google search console dashboard has been divided into following sections:
In the navigation bar (top left toggle button)
Please note that the sections in this bar are collapsible. Also note that many of the items in this bar are only present if you have data for that report.
For example, the Performance for Discover report is present only if your site has appeared in Discover, and specific reports in the Enhancements section are present only if the appropriate rich result for your site has appeared in Google Search results.
Property selector:

Use this to switch properties or to add a new property

. The property list shows both verified and unverified properties (for example, if you've added a property but never verified ownership, or have lost ownership).

URL Inspection: At the top, by using this URL inspection tool you get insights on specific URLs and how Google sees and indexes these. You'll also see if the page is eligible for rich results.
Performance: In the Performance section, you'll discover how your site is doing in the regular search results, on Google Discover, and on Google News, if your site is eligible for that.
Note: If your site is new and totally fresh to Google search then Google Discover and Google News will not appear in that section.
Google Discover is a feature within Google Search that helps users stay up-to-date on all their favorite topics, without needing a query. Users get their Discover experience in the Google app both in Android and IOS also from Chrome mobile browser.
In discover report, you will see data about relevant statistics about questions such as:
How often is your site shown in users Discover? How large is your search traffic?

Which pieces of content perform well in Google Discover?

How does your content perform differently in Google Discover compared to traditional search results?
You will see the performance data includes clicks, impressions, CTR, and average position for your site, as well as search query terms that users were searching for.
Indexing: The indexing section consists 3 difference section:
Page:

In the Page section, you'll find all the insights you need to see how Google discovers and indexes your pages. Here you will see which pages are indexed or not indexed due to any specific technical reason.

Sitemap:

Shows which sitemaps have been submitted for your site, sitemap statistics, and any errors Google encountered when processing your sitemaps.



Removal: It

allows you to block URLs on your site from appearing in Google Search temporarily, or to clear the search snippet until the next document crawls.
Experience: The Experience section gives you an idea of how Google values the performance of your page in the form of Page Experience, Core Web Vitals, and mobile usability.
Shopping: In the Shopping tab, you'll find more information about how Google sees your products. It visible in report, if you own an ecommerce site or sell something else online
Enhancements: The Enhancements section lists all the structured data that Google found on your site and whether or not these are eligible for rich results.
Security and Manual Actions: The Security & Manual Actions shouldn't be a much-visited destination as this list's security issues found by Google or when it issues a manual action against your site.
Links: This section overviews your site's internal and external links.
Settings: In this section, you will access some general settings for your search console such as:
Ownership verification:

Where you will see who's have own this property and which methods, he/she used for it.

User and permissions: Here, you can share this property with others by granting permission if you own this property.
Account association: Here you'll view or manage associations for all your properties using the Associations settings page.

For example, you can associate your Google Analytics account with the search console for accessing keywords. (Will show how to do it later)

Change of address:

This tool tells Google about your change, and helps to migrate your Google Search results from your old site to your new site

.
Crawl stats:

The Crawl Stats report shows you statistics about Google's crawling history on your website.
And finally, in about section,
You can see an option where you can remove your current property.
So, that's it all about search console dashboard. Hope you get everything well!
Now, let's move to step 2
Step #2: Link Google Search Console with Google Analytics
Now you're wondering why I'm linking Google Analytics to the search console.
Back in 2013, Google switched all searches over to HTTPS.
It's great for security purposes, but it hides the priceless keyword data from Analytics and here we got this.
But, through linking Google Analytics to search console to get some of that keyword data back.
Here's how we'll setup.
Open up your Google Analytics. Then, click the "Admin" button at the bottom of the left menu.
Click on the "Property Settings" link.
Scroll down until you see the "Adjust Search Console" button and click on it!
Now click on "Add".
Scroll down until you find your website, check the box, and hit "Save".
You're done successfully! Now Analytics and Search Console are linked.
Let's see what you get…
Landing pages with impression and click data:
Impression, clicks, CTR, and position data by country:
But most importantly… keyword data:
That's why we had linked Analytics to our search console.
Step #3: Adding a Sitemap
First up, you need to create a sitemap. If you're running WordPress with any SEO plugin, you should already have one installed.
I'm personally using Rankmath SEO plugin for my WordPress website.
If you don't have a sitemap yet, head over to Rankmath SEO. Then, go to sitemaps settings. It has been divided into tabs to organize them better. Here are how the settings should appear.
Just enabled Images in sitemap and include featured images option and stay rest of the remaining and click on Save changes.
Click on the XML Sitemap link appearing on the top, which will take you to your sitemap:
Don't use Rankmath? Just login to yoursite.com/sitemap.xml on your web browser and hit enter.
If you have a sitemap, it's usually here. If not, you need to create one.
So, let's submit a sitemap to Google.
It's quite easy to submit a sitemap in the new GSC.
Go to sitemap section, in your Google search console and just copy and paste your sitemap URL. Then, hit the "Sitemaps" button.
And it's done!
Submit URL to Google for crawling and indexing:
Using sitemap, you can either add an entire website for crawling and indexing or even a single URL for re-crawling.
This is useful for those who want their new webpage URL to be crawled and indexed faster. Additionally, as times when you revamp a webpage and you want the updated content to be indexed, this URL inspection feature can come really handy for you.
Let's learn how you can submit your webpage URL to Google in few steps:
Head over to the Google search console dashboard

Click on URL Inspected

Enter the URL in the search box (The one you want to crawl)

Click on Submit Button for indexing (Where it shows request again in the screenshot below).
This will help your webpages crawling and indexing faster.
Final thoughts
I personally suggest you spend a little bit time and playing with the Google search console to unlock its full potential.
Do you use Google Search Console? What areas do you find most useful?
Please share your thoughts in the comments below, and happy learning!