Many local business owners add their business information to a Google Business Listing (also called a Google Business Profile) to make it easier for customers to find them on Google Search. However, some business owners face difficulties in managing their listing, which leads to their Google Business Profile not being optimized properly. If you want your Google Business Profile to work well for your business and help you attract more customers, it's important to understand and use the tools available to manage and improve your profile effectively.
Creating a Google Business Profile (formerly known as Google My Business) is an important way to attract new customers to your business through Google search and Maps. Its give you complete management features that you can use to optimize your Google business profile but for that you have to get verified your listing profile to gain full access.
What is Google Business Profile (previously know as Google My Business)?
Google My Business now known as Google Business Profile is a completely free business listing tool from Google that allows every business owners to reach their potential customers via Google Search and Google Maps. It works effectively for local business which have physical locations.
Using Google Business Profile lets you connect with customers editing and updating business details and photos of your business, including your location, list products or services, and more.
Managing a Google Business Profile helps you increase your visibility on Google platforms such as Google search, Google Maps and on Google shopping. Also, gain credibility with reviews that customer shares as per their experience on your profile publicly.
Please note, Even if you don't have a physical store, you can still create a Google Business Profile as long as you interact with customers. For instance, if you work as a electrician and visit customers homes for your services, you can still have a profile on Google to let people know about your services in a particular area.
Here's how a Google business profile looks like:
What are the benefits of Google Business Profile?
As we already knew that Google is the world's most-visited search engine around the globe. This search engine currently holds more than 92% of search engine market share with around 5.4 billion daily searches. In which nearly half of all Google searches (46%) includes local intent, with phrases such as "near me" or a city or neighborhood after the search term.
Using a Google Business Profile offers several benefits for local business owners. Let's explore some of them:

Increase visibility on Google Search and Maps:
Having a fully optimized Google Business Profile ensures that your business appears on Google Search and Google Maps. This increases your online visibility, making it easier for potential customers to find you when they search for products or services in your area.
Have you ever searched for a business on Google search and then a map with a list of businesses at the top appears? That's called the "local pack" or "map pack."
The local pack appears when people search for specific locations or use terms like "near me" or "where to buy."
These types of searches have become more common, especially on mobile devices.
If your business is optimized well, and someone is near your location searching for a general term like "restaurant," there's a good chance your business will show up in the local pack.
Build Trust & Credibility with Reviews:
Most of your potential customers read online reviews for local businesses like yours. They'll measure your business on the scale of trustworthiness by reading reviews.
The star ⭐ rating next to business names on Google Maps (which measures from 1-5 stars scale) is a cumulation of reviews.
Reviews are important because they give you feedback about your business. You can reply to reviews, which helps build trust with your customers.
Remember, customers don't expect every review to be perfect and have 5 star rating. Google says that having a mix of positive and negative reviews is seems more trustworthy.
By responding to reviews, both good and bad, you can show your customers that you care and responsive to them. This helps build trust and credibility with both your existing as well as for future potential customers.
Control Detailed Business Information:
Your Google Business Profile allows you to provide all business details such as your address, phone number, website, and opening hours must be 100% accurate.
This updated business information helps potential customers easily find and contact you, increasing the chances of them visiting your physical location or reaching out to your business.
This is helpful for sharing important updates about your business like if you've expanded your services, temporarily closed, or fully reopened (especially during emergencies like COVID-19).
The great thing is that Google Business Profiles have good local SEO, so the updates you post will show up higher in search results compared to other websites that might have outdated information.
Regular Posts and Updates Publishing:
Google Business Profile provides you a section that allows you to share posts and updates, similar to social media platforms. You can announce special offers, promotions, events, or new products/services directly on your profile.
This keeps your audience engaged and informed, increasing their interest in your business.
Complete Insights and Analytics:
Google Business Profile comes with a traffic insights dashboard that provides valuable insights and analytics about your profile's performance. You can see and learn how many people viewed your profile, how they found you, and even track website clicks and phone calls.
These insights help you understand your audience better, make data-driven decisions, and optimize your local SEO strategies.
Integration with Google Ads:
If you run Google Ads campaigns on local pack, having a Google Business Profile can enhance their effectiveness.
By linking your profile with Google Ads, your business information and reviews can appear alongside your ads, making them more compelling and trustworthy to potential customers.
How to create a Google Business Profile?
There are 2 ways to setup your Google business profile. Make sure you have a existing Gmail account. Otherwise, enter your usual Google account login details or create a newly fresh Google account.
To get started, navigate to Google Maps and open the menu by hitting the button on the top left corner of the page.
Now on the menu, click for the "Add your business" button.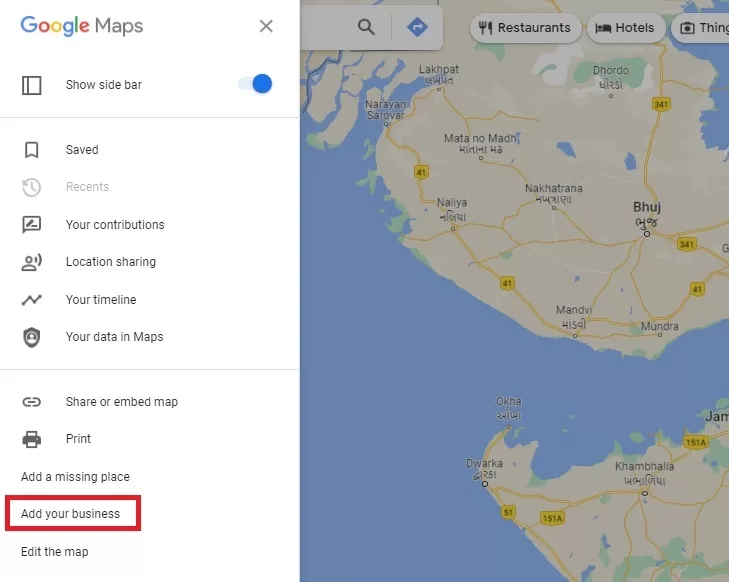 If you're already logged into a Google account, you're automatically logged into Google Business Profile Manager. Otherwise, enter your usual Google account login details or create a newly fresh Google account.
Step 2: Fill Out Your Business Name and Category
Now it's time to set up your Business Profile. The first step is to enter your business name.
As you type, Google will show you a list of existing businesses in its database.
If your business appears in the drop-down list, skip to the next step to learn how to claim your business.
If it does not appear in the drop-down menu, click Create a business with this name.
Remember, write your business name exactly as is. (Don't try to stuff your business name with keywords, as a result Google may suspend your GBP account. You'll add relevant keywords in your Business Description later.)
Next, choose your business type and checkmark one or all depend upon your business from the list and click Next button.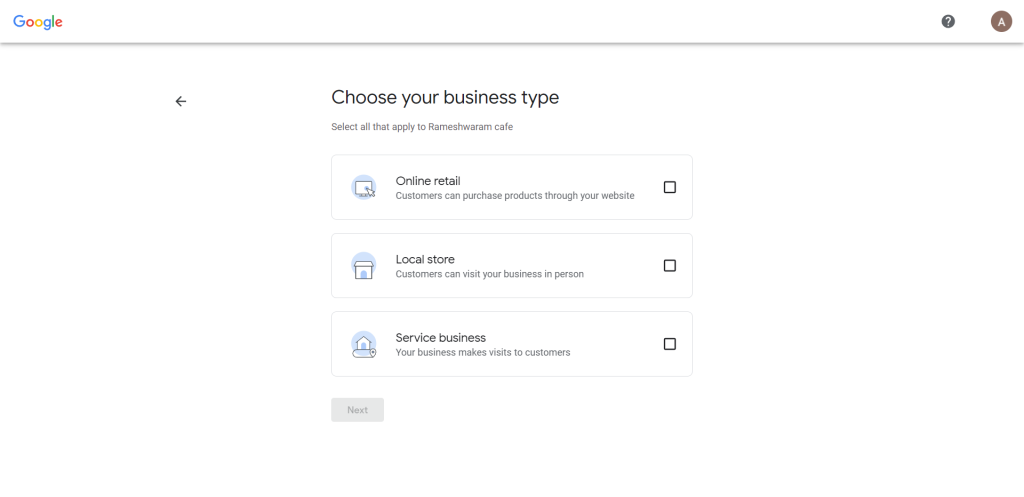 If you have online retail business such as an ecommerce online store where customers can purchase products then checkmark ✅online retail.
if you have a local store, where customer's can visit your business on your storefront then checkmark ✅local store option.
If you are a service provider that makes visit to customers then checkmark ✅Service business option.
You can checkmark all or selected any of them depending upon your business requirements.
Next, type out your business category and choose one from the list and click Next button.
Your business category tells Google what kind of business you have, making it more relevant and searchable.
You can always change your business category or add more categories later. Select the relevant category and click on Next button.
Step 3: Enter your location
Add location If you have a physical location for your business, it's a good idea to add it to your Google Business Profile. While adding a location is usually optional, but some business categories, such as "Restaurant," may require you to provide a location.
If you don't have a physical store or location for your business, you can select "No" to skip this step.
If you choose "Yes," Google will ask for your address so that it can show it on Google Maps. It's important to enter the correct address for accuracy.
Google also uses your address to check for any duplicate listings of your business.
If you find a duplicate listing that belongs to you, move on to the next step to learn how to claim your business. If there are no duplicates, select "None of these."
Step 5: Choose Your Service Area
This step will look different based on whether you added a business address.
If you added a business address, this step is optional. Google will ask you if you provide deliveries or home and office visits.
Select "Yes" to tell searchers what areas are within your reach.
Select "No" to skip to the next step.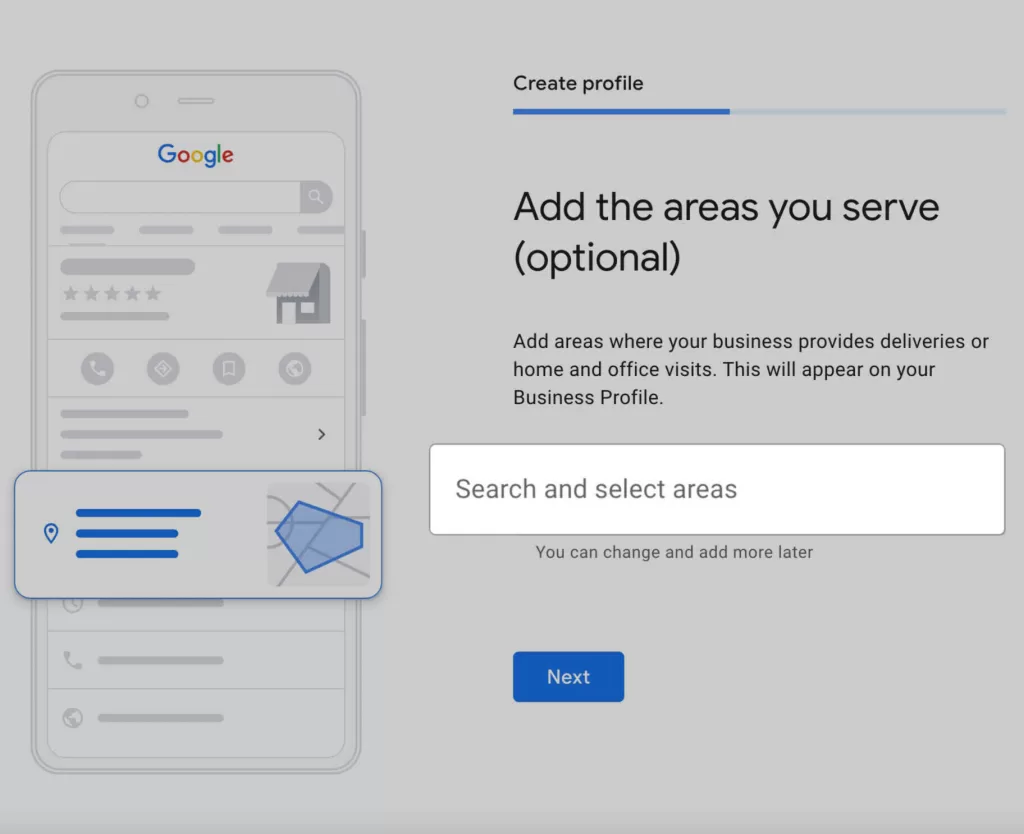 If you didn't add a physical business address, then you can't skip this step. Simply choose an area from Google's suggestions or start typing the name of the area you serve.
Step 6: Fill in your contact details
Next, add your phone number and website URL, if you have one.
If you don't have any website, simply checked marked and click Next button.
Always remember that your customers will find and contact you through your provided contact information, so double check that it's correct.
Step 7: Opt In to Updates and Recommendations
Google will now ask if you'd like to opt in to updates and recommendations for your GBP.
I recommend selecting "yes" so you can hear about best practices directly from Google.
Step 8: Verify Your Google Business Profile Listing
Enter your real business physical address, not a Pincode or Postbox number.
Enter your address and click Next. You'll be offered the applicable options for verifying your account.
Your Business Profile won't become active and searchable until you won't verify it. So while you have the option to skip business verification during your initial setup, you'll need to verify your listing eventually later. Now, you can go for customizing your Google Business Profile.
There are five different ways to verify your Google business profile listing:
By 📱phone. You'll receive a automated call or text with your 5-digit verification code from Google.
By 📧email. You will receive an email containing your 5-digit verification code from Google.
By 📨 postcard. You will receive a postcard from Google within 2 weeks at your registered physical business address containing your 5-digit verification code.
By 📹video recording. Record a video that shows proof of location, your business equipment, and that you are indeed an authorized manager of the business.
By 🤳live video call. Show the same proof for the video recording, but on a live call with a support representative from Google.
Your verification options change depending on whether or not you've added a location. If you have a physical location, then mostly you need to verify your business by postcard or text verification.
Physical businesses will need to get a postcard by mail to verify their location. Service-area businesses can be verified through an email address.
Once you receive your 5-digit verification code, enter it on the next screen (or logon to https://business.google.com/) and click Verify or Verify business..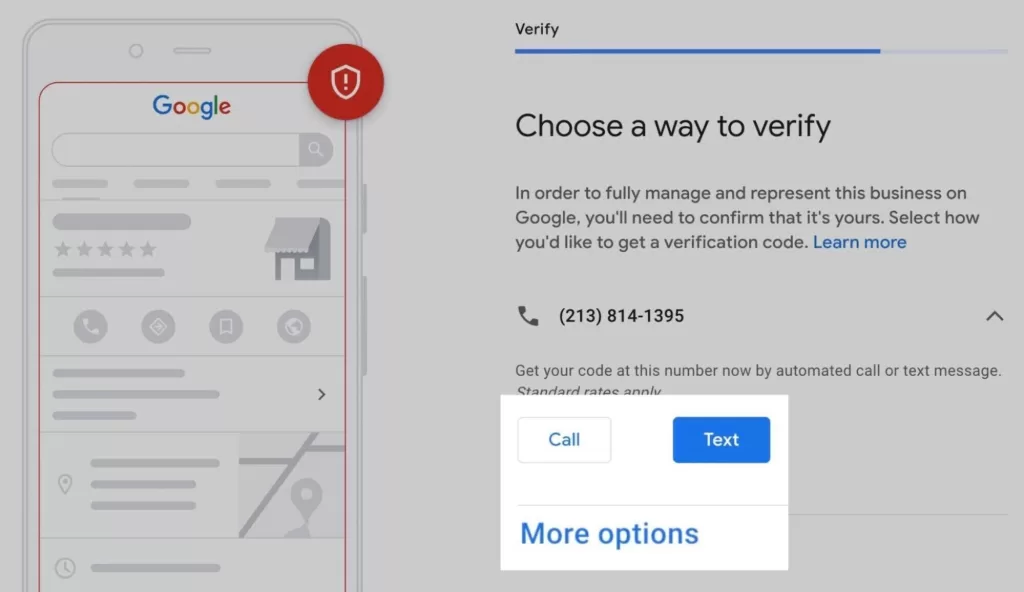 After which, you can choose between receiving a phone call, text message, or one of the "Other options."
But nowadays, you can be easily verified by OTP code sent on your business number.
If the available verification options for your business don't work, you can contact the Google Business Profile team through their help center.
Additional (Optional) Step: Add More Information & Opt-in to Google Services
After getting verified your Google Business Profile, Google will ask you to provide additional information about your business and choose relevant services based on the category you selected.
You can add details about the specific services you offer, set your business hours, enable messaging, and more.
It's a good idea to provide as much information as possible. Including important details like your operating hours and business photos will make it easier for potential customers to find and connect with you.
Here are the optional steps where you can add more specific information or opt in to additional services:
Specific Services You Offer
By selecting specific business categories, you can highlight the types of services your business offers.
For example, if you running a digital marketing agency, you can add services like "Telemarketing" or create custom services such as "SEO" to showcase your expertise in that service.
Business Operating Days and Hours
Next, you will need to add your business's operating days and hours.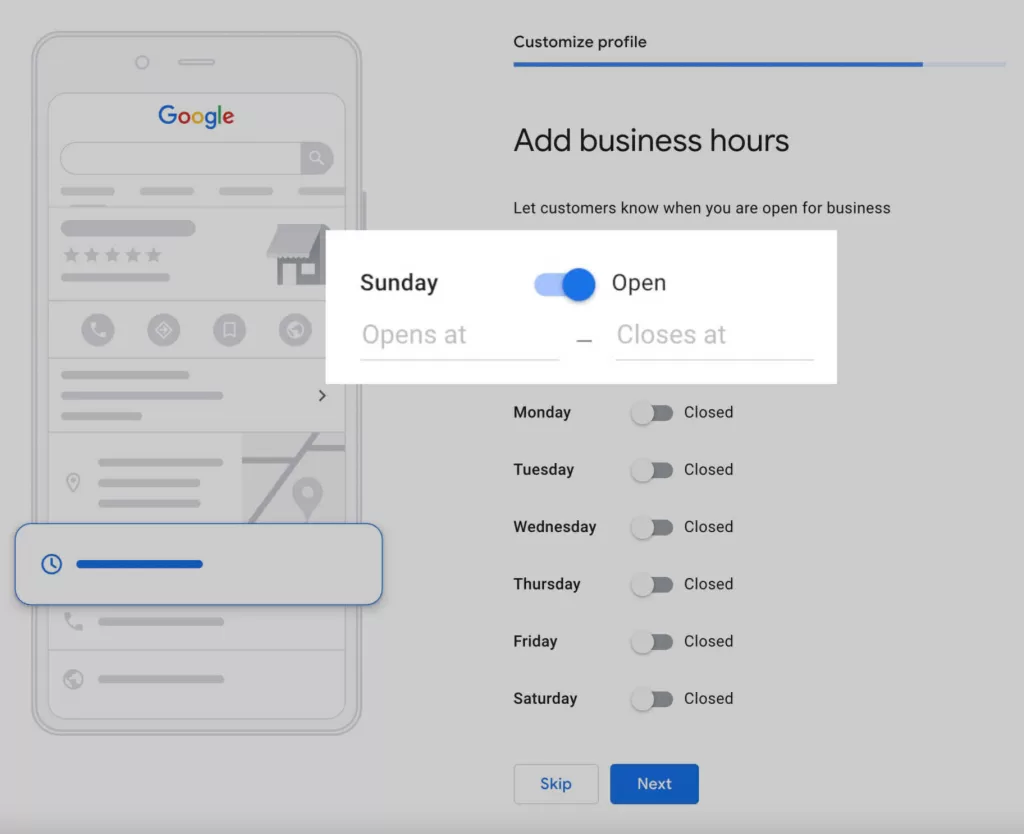 Select all the days of the week that your store or office is open.
Then, set opening and closing times per day that you set to "Open."
Messaging Through Google
Google has an amazing messaging feature that allows searchers to message you directly from your Google My Business listing.
I recommend only enabling it if you monitor your Google Business Profile on regular basis.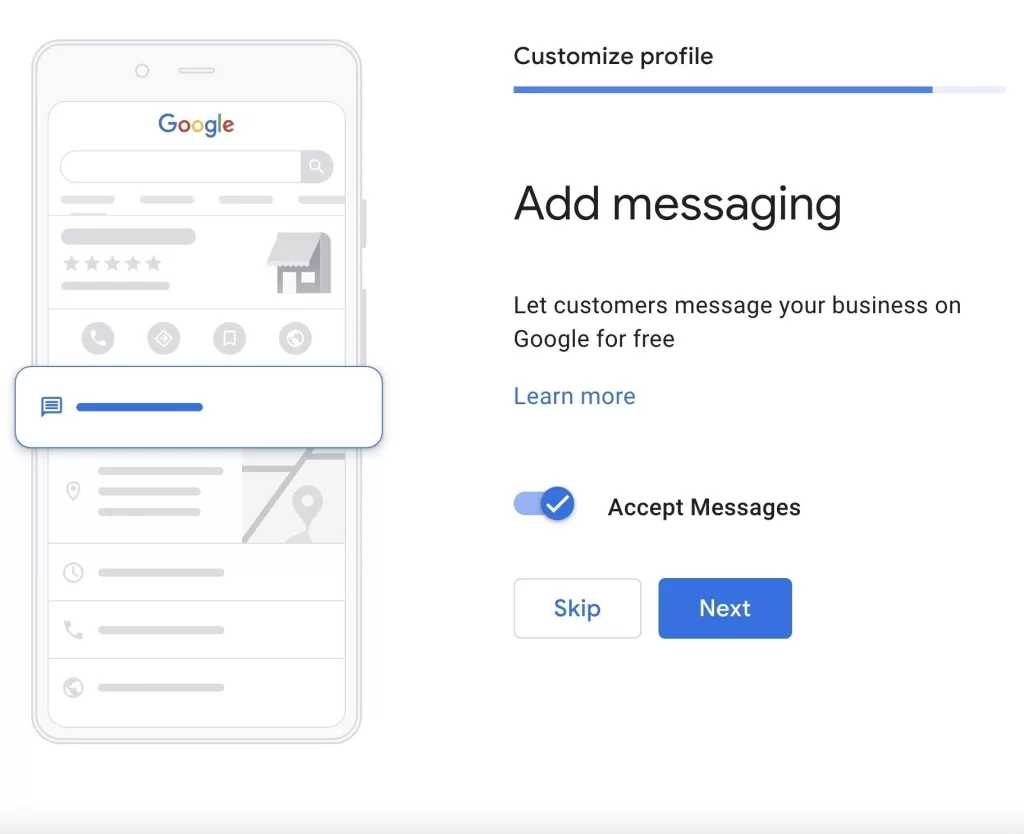 For enabling Messaging, toggle the "Accept Messages" option found on the "Add messaging" page and click on Next button.
Even if you stay disable messaging through Google, your potential customers will still be able to contact you through the contact information you've provided earlier.
Adding Business Description
Next step, Google gives you 750 characters to briefly describe your business.
As per their guidelines, your business description should include following:
Your products or services
Your unique selling point
Your history
Anything else searchers might find helpful
Once you write your business description, I recommending you to run it through a spelling and grammar checker like Grammarly and make it error and spell free to avoid account suspension.
Also, avoid following things in your business description:
Offensive content
Links
HTML code (make sure everything is in plain text)
Sale announcements
Add Business Photos
Next step is to add business photos. To give your customers a visual idea of your business, it's important to add photos to your Google Business Profile.
These photos can showcase your physical business space, the products you sell, and more. Depending on your business category, you can add specific photos that are relevant. For example, restaurants can include pictures of their menu and delicious dishes.
Adding photos to your profile not only makes your business more appealing, but it also helps customers get a genuine idea of what your business is like. It allows them to see and understand your offerings without you needing to run ads or actively sell something.
Google Ads
Finally, you can set up Google Ads. But this isn't required, and it will not impact how often your business shows up in the free organic search results. So you can definitely skip it.
Once your business profile get verified or you skipped verification you can now login to your Google business Profile Manager for customizing your GBP Profile.
From here, you can manage your Google business profile, view insights, manage reviews and send messages, post updates and more. Read more about how you can customize your Google business profile and optimize well for the customers who're searching for the product or services that you provides.
So, that's how you can create a Google business profile listing for your business and get verified.